Cremation and Memorial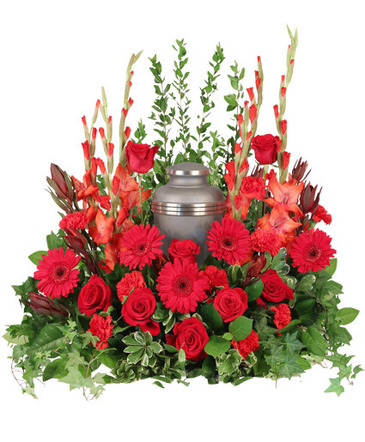 Adoration Urn
Cremation Flowers (urn not included)
Relive fond memories and celebrate the life of someone near and dear to your heart with a beautiful Adoration cremation arrangement. Gerberas, roses and carnations in traditional red hues surrounding the urn you have chosen for your loved one. Urn Not Included
Shown at $190.00
ADORATION URN
CREMATION FLOWERS (URN NOT INCLUDED)
Foliage: Salal, Pittosporum, Ivy, Myrtle, Safari Sunset Leucadendron, Red Gladiolus, Red Gerberas, Red Roses, Red Carnations.
Relive fond memories and celebrate the life of someone near and dear to your heart with a beautiful Adoration cremation arrangement. Gerberas, roses and carnations in traditional red hues surrounding the urn you have chosen for your loved one. Urn Not Included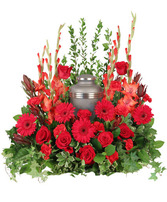 $160.00
$190.00
$220.00
Shown at $190.00
Cremation and Memorial Flowers
Flowers serve as an inspiration and a tribute to friends and loved ones during trying times. Cremation urn and memorial flowers can act as a personal expression of love or as a warm send-off. When you work with DOUBLE R FLORIST, we endeavor to illustrate the essence and memory of your loved ones with a beautiful floral expression of their lives. Our selection of floral inspiration covers a wide variety of personalities and tastes. Looking for something different, or want to add a personal touch? We also do custom arrangements. Call for pricing.